Even if you've opted out of buying new, purchasing a vehicle that's new to you can still feel like a major investment! For the vast majority of Philadelphia-area drivers, choosing to buy used means learning how to finance a used car from start to finish. Here's a quick overview of the process:
Determine how much you can afford to pay each month.
Know your credit score and do research before you apply.
Make all of your credit applications within a 14-day window.
Compare offers and read the fine print!
Finalize the value of your trade-in, along with your down payment.
When all this is done, you're ready to sign on the dotted line and drive home! Let's take a look at each step in detail.
---
1. Determine How Much You Can Afford to Pay Each Month
Our monthly payment calculator can help you break down a vehicle's total cost into manageable monthly chunks, if you have an idea of what your down payment, trade-in value, and loan term, and interest rate are likely to be.
However, it's important to point out that you'll likely require full insurance coverage for the duration of your financing. You should also factor in average fuel and maintenance costs for your chosen vehicle. Although it's often possible to save on your monthly payments by leasing a used car instead, this isn't always the right move, even when it's an option.
2. Know Your Credit Score and Research Lenders
Before you apply for a loan, it's a good idea to try and estimate the interest rate that you're likely to receive. Most drivers who pursue used car financing end up with a 60-month loan term and an interest rate of roughly 5%. If your credit score is close to the used car financing average of 655, you can expect a similar deal.
Of course, much depends on where you decide to apply. A bank may have a set interest rate for each credit bracket, while other lenders may offer more flexibility in their terms. If you're not getting the rate you want, taking steps to improve your credit may help. If your credit improves sometime after you've purchased the vehicle, you may be able to refinance for a lower rate.
---
3. Make All of Your Credit Applications Together
Bennett INFINITI of Allentown has an in-house financing department that can help you streamline the used car buying process. We'll connect you with a wide range of Fountain Hill-area lenders so that you can choose the loan that's right for you. Just apply for financing one time, online! We'll make sure you get the best deal that fits your budget and your needs.
If you decide to make many different applications, be careful to make them all within a 14-day window. That is, don't necessarily wait for rejections to come in before you make a second or third application. Credit agencies may penalize the driver who applies for new loans all the time, but making your credit applications together can limit the risk of unfavorable reporting. Don't hesitate to ask our finance department any questions before starting this process!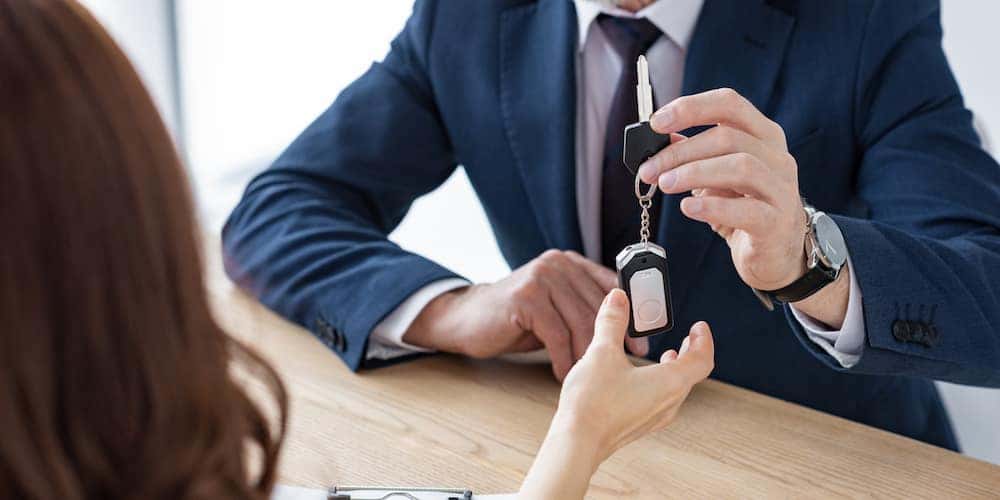 4. Compare Offers and Read the Fine Print
If you've made multiple used car financing applications, you need to know how to choose the best offer. Here's what you should keep in mind:
For many drivers, the interest rate you're offered is the most important item to look at. However, it's not the only item you need to consider.
You should also look at the loan term. These usually range from 24 months to 72 months; shorter terms mean higher monthly payments but lower total interest costs.
You might be tempted to pursue a loan with a flexible rate, which lowers your payments for the first few months, but may raise them sharply after a grace period. Choosing a fixed-rate loan makes it easier to ensure that you're making a smart investment.
It pays to study the fine print. Will there be penalties for early repayment? Are you going to pay a fine for refinancing later on? Not all loans are identical here, so you need to tread carefully.
5. Finalize the Value of Your Trade-In and Down Payment
There's no hard and fast rule that says you have to value your trade-in at the end of the process, after making your application for financing. For instance, it may be easier for you to trade in your vehicle earlier, take cash, and apply it somewhere else.
However, for many drivers, it's easiest to take care of everything at the same time. After you're approved for financing, come to Bennett INFINITI of Allentown to have an expert inspect your vehicle, determine your final trade-in value, and apply it directly to your down payment before you sign.
It's Time to Find the Perfect Used Car!
If you're ready to learn more about the next steps, contact us or chat online, or reach out directly to the experts at our financing department. We're ready to help you find everything that you desire in a used car and provide information about in-house financing with used cars, so that you can cruise down the streets of Bethlehem and Fountain Hill with confidence.
---
Used Cars in Allentown