What is INFINITI InTouch™?

Here at Bennett INFINITI of Allentown, we know that your life doesn't stop moving when you're on the road. If you want to enjoy this capability in your next luxury sedan or SUV, make sure to choose a vehicle with INFINITI InTouch™ services. You'll enjoy easy, in-vehicle access to your favorite communication tools and entertainment features, along with useful advanced security features.
What's more, when you connect with the INFINITI InTouch™ App, you can sync your vehicle's touchscreen with Facebook, Google, and other resources that you use every day! This means it's easier than ever to keep up with your contacts, appointments, and deadlines when you're driving around Fountain Hill and Philadelphia.
---
Making the Most of INFINITI InTouch™
What is INFINITI InTouch™? It's the advanced touchscreen-based system that powers your vehicle's entertainment and connectivity features. Today, it's available in most new vehicles (and many pre-owned models) for sale at our dealership in Allentown.
Wondering what's included with your INFINITI InTouch™ system? Here's a quick and simple introduction to the most exciting features:
Hands-Free Communication: Keeping up with your contacts doesn't have to be a dangerous distraction. InTouch™ lets you make and answer phone calls, or send and receive text messages through your audio system, so you can keep your focus on the road.
Music and Entertainment at Your Fingertips: INFINITI InTouch™ provides seamless access to Bluetooth®, SiriusXM® Satellite Radio, and so much more. In models equipped with Apple CarPlay™ and Android Auto™, you'll use the InTouch™ screen to access your favorite smartphone apps, too.
My Schedule with Google Calendar™: When you sync your vehicle with the InTouch™ app, you can view your Google Calendar™ right on your in-vehicle touchscreen.
Remote Door Lock/Unlock: Check the status of your vehicle or lock/unlock your doors using the INFINITI InTouch™ App. This comes in especially handy when you're away from the vehicle, or if you've locked your keys in the car.
Emergency Services: YourINFINITI InTouch™ system can also connect you directly to a Response Specialist. Just press the SOS button and your vehicle will take care of the rest. In the event of an emergency, INFINITI Automatic Collision Notification will spring into action, so you can focus on the safety of yourself and your passengers.
Vehicle Monitoring: If you have a teen driver in your family, you can use the INFINITI InTouch™ system to set a maximum speed limit on your vehicle. You can also set up a "drive zone alert" that will tell you if the vehicle leaves a pre-designated area.
Stolen Vehicle Locator: If your vehicle is lost or stolen, using the INFINITI InTouch™ app can help you find it right away! It will even connect you directly to the proper authorities.
---
How to Use the INFINITI InTouch™ App
Your INFINITI InTouch™ features become even more useful with the INFINITI InTouch™ App. As soon as you connect, you'll be able to use your in-vehicle touchscreen to access Facebook, Google Online Search, and so much more!If you've recently purchased an INFINITI vehicle near Bethlehem, but you're not sure of how to use the INFINITI InTouch™ App, don't fret.
All you need to do is visit the Apple App Store or the Google Play store, and download it to your compatible smartphone. Then, get inside your vehicle and follow the on-screen prompts to ensure that the syncing process has gone off without a hitch.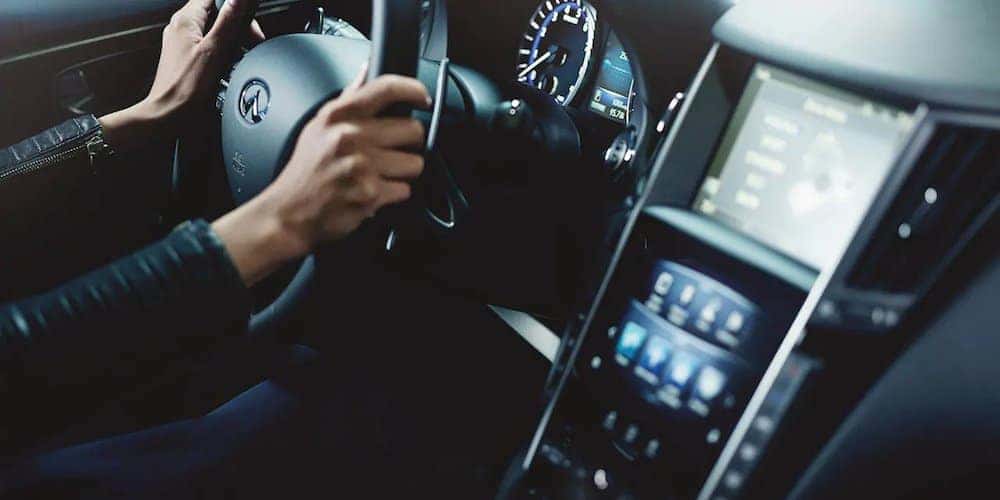 ---
Visit Bennett INFINITI of Allentown for Guides to INFINITI Technology
For more information on INFINITI systems, contact our team or visit us in person today! Whether you're just getting started, have a question about a particular feature, or need help with troubleshooting, we're glad to say that we've got your back.
You don't necessarily need to pay the new INFINITI Q50 price or the new INFINITI QX60 price in order to enjoy the latest innovative features! Consider a used Q50 or check out the rest of our pre-owned inventory before you stop in.